The Cab Calloway Business Professionals of America team achieved great success at the 2017 National Leadership Conference in Orlando, Florida. Business Professionals of America is the leading Career and Technical Student Organization (CTSO) for students pursuing careers in business management, office administration, information technology and other business related career fields. These students were involved in a rigorous 5 day trip, May 9th through 14th.
Competition results as follows:
Claire A. placed 1st, Karl Matthew E. placed 3rd and Emma R. was a top 10 finalist in Graphic Design Promotion
Pranav P. placed 1st in Entrepreneurship Exploration
Neha D. placed 1st in Extemporaneous Speaking
Ashley B. placed 1st in Spreadsheet Production
Sudha A., Marlayna C., Neha D. and Nicole H. placed 2nd in Introduction to Video Production Team
Karl Matthew E., Julia K., Jennifer K. and Robert O. placed 2nd in Web Site Design Team
Pranav P. placed 2nd, Atharva S. placed 3rd, Ashley B. and Arundhati D. were top 10 finalist in Business Math Concepts
Ashley B. placed 2nd and Atharva S. was a top 10 finalist in Business Communication Skills Concepts
Pranav P. placed 3rd, Ashley B. and Atharva S. were top 10 finalists in Computer Literacy Concepts
Alexandria H., Sydney R., Rayne S. and Mikayla S. were top 10 finalists in Presentation Management Team
Jillian F., Emma R., Atharva S. and Mia X. were top 10 finalists in Administrative Support Team
Ashley B. was a top 10 finalist in Prepared Speech
Ashley B. and Sudha A. were top 10 finalists in Business Fundamentals Concepts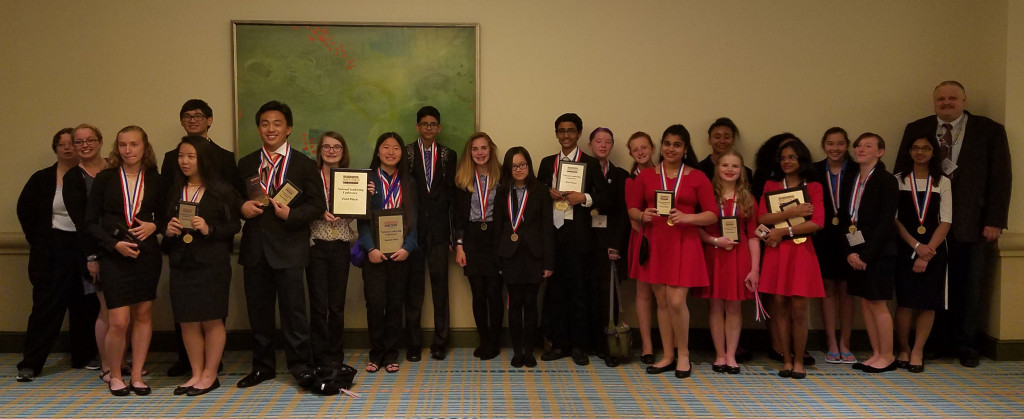 Students are led by their business teacher and BPA Advisor Mr. Sverrir Georgsson, co-advisor Angi Barker and volunteer coach Sarah Barker. We thank all who have participated and made the BPA chapter such a great success this year!