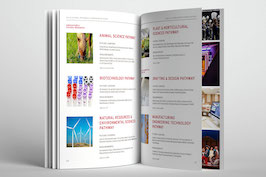 The Red Clay Consolidated School District is pleased to announce the release of High School: A Quick Guide to Red Clay Schools, a handy new resource for prospective Red Clay high schoolers.
With this guide, it's easier than ever to learn about the unique offerings at Red Clay's comprehensive high schools and magnet schools. Students can also explore over 50 ways to earn college credit during high school, and discover their future through a catalog of 40 career pathways and programs of study.
This guide is an excellent resource for families during the School Choice window, which ends on January 10, 2018. We encourage 8th graders and their parents to take some time over the Winter Break to learn about Red Clay's future-ready high schools and start thinking about which programs best fit their interests and aspirations.
High School: A Quick Guide to Red Clay Schools
Escuela Secundaria: Guia Rapida de las Escuelas de Red Clay