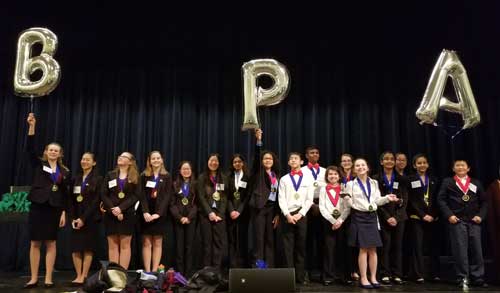 Yesterday, the Cab Calloway Middle School BPA Chapter achieved great success at the State Leadership Conference by placing 17 students nationally with 4 team and 5 individual first place winners.
The results are as follows:
Brooke B., Ava B., Andrew I., Rishi M. placed 1st in Video Production Team Event
Marissa J., Emily L., Giada M., Delanie M. placed 1st in Presentation Management Team Event
Ashley B., Arundhati D.. Alexandria H., Mia X. placed 1st in Website Design Team Event
Julia C., Harpreet K., Pragya S. placed 1st in Digital Game Design Team Event
Claire A. placed 1st in Extemporaneous Speaking, 2nd in Graphic Design Promotion and 1st in Business Fundamentals
Arundhati D. placed 1st in Financial Literacy, 3rd in Business Fundamentals and 4th in Business Communications
Ashley B. placed 1st in Computer Literacy Concepts, 2nd in Business Fundamentals and 3rd in Business Communication Skills
Mia X. placed 1st Graphic Design Promotion
Alexandria H. placed 2nd Prepared Speech
Ava B. 2nd Extemporaneous Speaking
Jack W. 2nd Financial Literacy
These students now have the opportunity to attend the National Leadership Conference in Dallas, Texas from May 8th to 13th. We are very proud of all students who participated in the conference, please give congratulations to our winners when you see them.
The Cab Calloway BPA Chapter is led by Advisors Mr. Sverrir Georgsson, Miss Angi Barker and Ms. Sarah Barker.