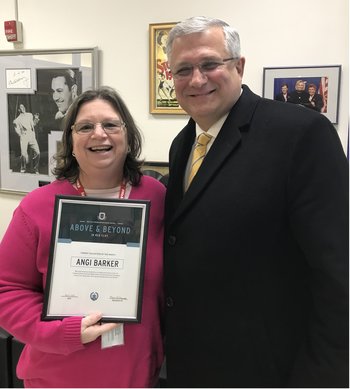 The patron saint of Cab Calloway Middle School Clubs, Miss Angi Barker has received the Above and Beyond Parent Volunteer of the Month Award from the Red Clay Consolidated School District.
Angi has been working with middle school students at Cab since her son Dan and daughter Sarah were Cab students. They have long since graduated and moved on to adulthood, nevertheless Angi has stayed on as an integral part of many Cab middle school clubs.
A tireless student advocate, Miss Angi comes in at least four days a week working with her Technology Student Association (TSA), Science Olympiad, and Business Professionals of America (BPA) students. She teaches them a wide variety of soft and hard skills, all of which will help them later in life, no matter what they decide to do for a living.
Always with wry wit, Miss Angi has great fun working with the kids and makes learning enjoyable and approachable for her students. Her goal is to change lives for the better and instill within each child the self-confidence they need to succeed.
This is not the first honor Miss Angi has received; in 2015 she received the Cab Calloway Honorary Diploma, also due to her extraordinary efforts for our students every day.
Way to go Angi!