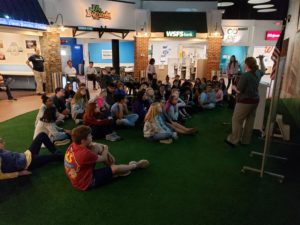 On October 15th and 16th, Cab Calloway School of the Arts students participated in Junior Achievement Finance Park. JA Finance Park is a month-long program that introduces students to personal financial planning and career exploration. The culmination of this teacher-led program, students visit JA Finance Park, a realistic on-site or virtual community, to put into practice what they've learned in the classroom by developing and committing to a personal budget.
Many students fondly remembered fifth grade JA Biz Town, so the clapped and cheered when they pulled up in front of the beautifully designed facade of the Junior Achievement of Delaware facility.  Junior Achievement Education Manager Amy Jolly-Van Bodegraven calls the JA BizTown experience "the highlight of fifth grade" which she describes as of a work readiness program where students are given job rolls, manage a work schedule.  A very different experience than the JA Finance Park simulation.  Mrs. Jolly-Van Bodegraven describes the JA Finance Park experience as "focusing more on the end of the work day when adults come home to a family and have to make their finances work".
Students were given an adult persona with a career, salary, and family situation and had to plan for groceries, taxes, transportation, some learned the struggle of living with little money while others got to easily run through from the luck of a good salary and budgeting. They learned how hard it can be to pay taxes and budget while still having money for themselves.
The simulation includes participation from volunteers, which included parents, grandparents, and industry volunteers from JP Morgan Chase Bank. Volunteers did a fabulous job assisting student groups as they progressed through the various milestones of the activity. Everyone had a great time and learned valuable personal finance concepts that will hopefully last them a lifetime.
Students were accompanied by Cab Calloway School of the Arts teachers Sverrir Georgsson, Andrew Bedell, Susan Ames and Jeffrey Haycraft, as well as, many fantastic parent volunteers.