The Cab Calloway School Fund, a non-profit 501©(3) organization, provides scholarships and grants for private lessons, workshops, school trips, instruments, tools and supplies. We make it possible for Cab Calloway School of the Arts to have full piano and strings programs. Our summer program (SMArtSummer) offers six weeks of arts and science camps, attended by more than 700 students in 2016, including disadvantaged and deaf children.
http://www.cabcallowayschoolfund.org/
Twenty four years ago a handful of parents came together to create a new kind of public school for Delaware––one that would achieve excellence in academic education by infusing it with the arts.
It wasn't easy, but thanks to innovative leadership at the district level and the untiring support of parents, teachers and community, Cab Calloway School of the Arts was born!
Today, 950 students in grades 6-12 attend the school. Inspired by their interests in communication arts, dance, instrumental music, piano, strings, theater, visual arts and vocal music, our students are engaged in the classroom and motivated to succeed.
Our class of 2017 graduation rate was 100 percent.
Seventy-three percent of graduates received college and university scholarships totaling more than $9.5 million.
Even more important, however, has been our ability to level the playing field in providing an arts-enhanced education to children who might not otherwise have financial means to access it.
With your generous contribution, the Cab Calloway School Fund can continue to support these programs as well as the innovation and incubation of future initiatives. Additional funds will support scholarships, grants and other activities. Please take a moment to complete the enclosed donation form, or visit www.cabcallowayschoolfund.org to donate online.
Thank you for helping to make Cab Calloway School of the Arts a model for the future of education!
Cab Calloway Scholarship 2021 Information
This program was created by MBNA in 1995 to honor the legendary Cab Calloway. These competitive scholarships range up to $1,000 per student and can be used for any arts subject taught at Cab Calloway School of the Arts (CCSA). Students currently in 6th through 11th grade are eligible to apply.
Click the below links to download the PDF of the Scholarship
CCSF Scholarship Information 2021
CCSF Scholarship Application 2021
CCSF Course Form-Worksheet 2021
CCSF Teacher Recommendation Form 2021
Places Everyone!
Become a THEATER PATRON by purchasing a commemorative seat plaque for someone special in your life! Your financial support will fund the continuing arts programs at Cab!
PATRON LEVELS
PLATINUM: $1000 contribution includes a Seat Plaque in Section B and recognition on the posted Patrons board.
GOLD: $500 contribution includes a Seat Plaque in Section A, C, or E and recognition on the posted Patrons board.
SILVER: $250 contribution includes a Seat Plaque in Sections D, F, G, H, or L and recognition on the posted Patrons board.
BRONZE: $125 contribution includes a Seat Plaque in Sections I, J, K, M, N, O, P, or Q; recognition on the posted Patrons board.
Click here to purchase commemorative seat plaques for the new theater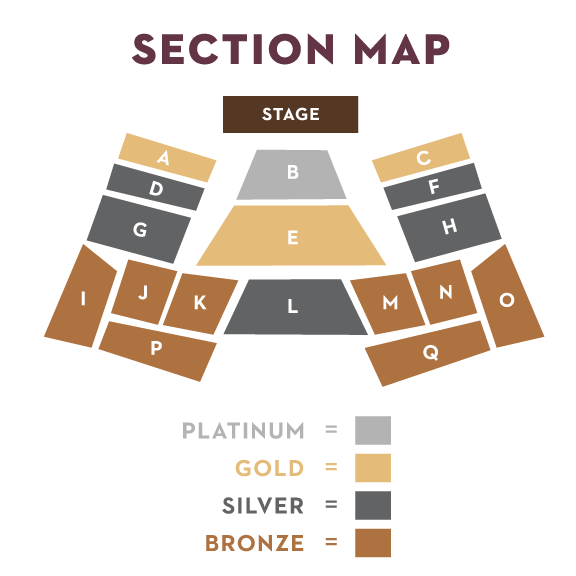 Need help with your message? Look at these ideas: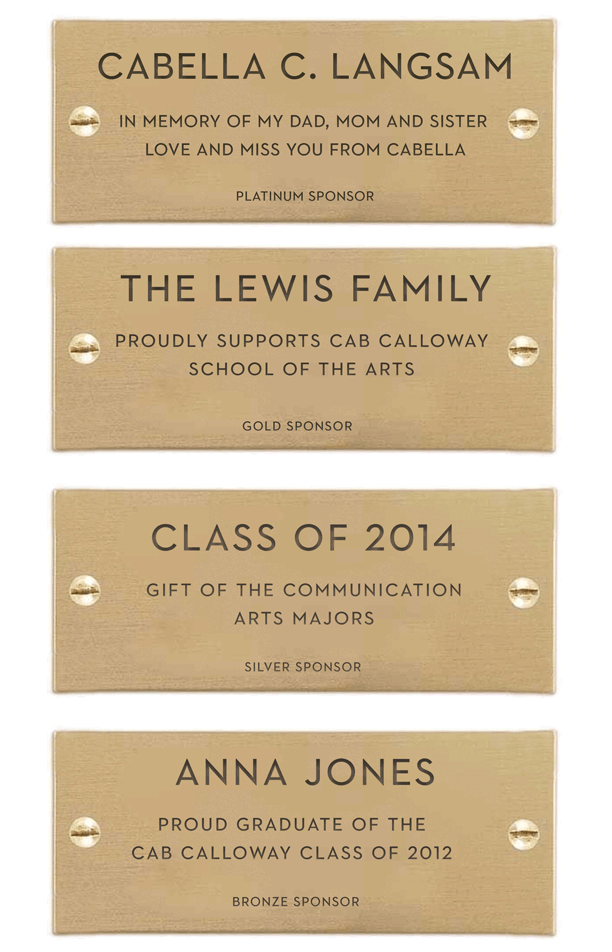 For questions contact: info@cabcallowayschoolfund.org
Cab Calloway School Fund is a 501c3 and a portion of your contribution may be tax deductible. Please consult your tax adviser about the deductibility of the contribution.
Disclaimer: The Fund retains final approval on any plaque purchased, and any plaque considered vulgar, offensive, or inappropriate in nature may be denied or recalled if issued in error with refund to donor. Any message that does not conform to the specifications or cannot be engraved may be asked for revisions.